Palas® is a leading developer and manufacturer of high-precision devices for
Testing of Complete Filters
Palas® is a leading developer and manufacturer of high-precision devices for
Testing of
Complete Filters​
Reliable, According To Standard, Adaptable
To reliably determine the quality and efficiency of filter elements, it is important to test energy consumption (pressure drop), loading and particle separation efficiency in addition to total penetration.

Precise measurement requires adjustment of the measuring channel to the size of the filter element in terms of flow control and aerosol distribution
Palas® has more than 35 years of experience in the field of filter testing and is continuously developing test stands of the highest quality to meet a wide range of requirements.
Testing Of All Kind Of Filter Elements
Palas® has filter test stands for all possible applications and filter elements.
For example, the new FET system can perform defined tests on filter elements in minimum size 100 x 100 mm, medium size 300 x 300 mm and larger (610 x 610 mm). If required, Palas® can also manufacture filter test stands to your specifications – also for even larger filter elements. Just let us know what your requirements are.
The measurement results of the test bench are better than the standard requirements:
ISO 24693-5 HEPA/ULPA filter element
Room air filter according to ISO 16890
ISO 11155-1/3 Motor vehicle cab air filter
DIN 71460 Automotive Interior Filters
Thanks to individual adapters and customer-specific adjustments to the airflow, the devices can be used with various filter elements.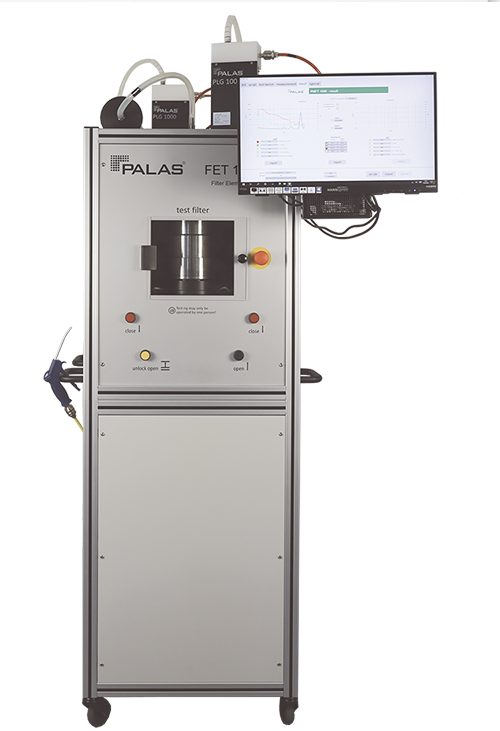 Accurate, versatile testing


Measurement according to ISO 29463-5 and 29463-3, as well as ISO 16890 (ISO ePM1; ISO ePM2.5) in one channel possible
Particularly wide range of application for separation efficiency measurement from 20 nm to 40 µm
Measurement of dust holding capacity possible

Flexibility and ease of use

Customization of filter adapters, flow channel and measuring ranges possible for optimal test performance
Modular compact design for small filter elements, low space requirement
o Horizontal design for minimization of particle losses
Calibration of raw gas/pure gas not necessary, because only one sampling and one measuring device is used

Safety

Logged results based on relevant standards
Factory tested and calibrated test stands
We will be happy to assist you. Get in contact with us today!
More than 35 years of experience
Palas® GmbH is a leading developer and manufacturer of high-precision instruments for generating, measuring and characterising particles in the air. With numerous active patents, Palas® develops technologically leading and certified fine dust and nanoparticle measuring instruments, aerosol spectrometers, generators and sensors as well as associated systems and software solutions.
Air Quality Measuring Devices
Protective Mask Test Systems
Fine Dust Monitors

Nanoparticle Measuring Devices

Aerosol Spectrometers 
Filter Media Test Rigs
Filter Test Rigs

Process Monitors

Aerosol Generators

Dilution systems
Calibration Systems
Special Developments
Services
Trainings and Seminars